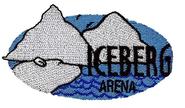 GENERAL INFORMATION
Located at
2 Iceberg Arena Road
Fogo Island Central, NL A0G 2X0
Call (709) 266-1112 for the daily schedule
Call (709) 266-1111 to speak to staff
Fitness Room/Indoor Walking when ice is not in place
Open Monday to Friday, except holidays ($3)
Common Room
Available for meetings, birthday parties, socials, and more.
For rental rates and bookings, please call Iceberg Arena at (709) 266-1111.
ADVERTISING AT THE ICEBERG ARENA
The Town of Fogo Island is offering you a new opportunity to advertise your business.
We are offering advertising space along the front side of the prominently located Iceberg Arena, facing the school and highway 334. We are offering to install a 4' x 8' billboard sign with your company's information, made of high quality Dibond material and excellent imaging. All signs will be completed with your business logo, and information of choice in consultation with the signage printer. Advertising your business will create customer awareness, boost business, and show your support for community initiatives and opportunities.
The initial cost is just $600.00, which includes the 4' x 8' sign, ordered by us, shipped to the Town, and installed by Town staff.
There will be no additional cost attached for the first year. The next invoice you will receive will be in April 2023, with an annual cost of $500.00 plus H.S.T. This is a prime advertising location where your sign will be clearly visible by residents and visitors.
Please keep in mind this new advertising opportunity will have limited spaces available, and we encourage you to act fast. These new 4' x 8' billboards are a wonderful marketing tool as we offer new opportunities and strengthen our community partnerships.
If you wish to avail of this new advertising opportunity, please email tourism@townoffogoisland.ca or call 709-266-1111 to reserve your space, this will be done on a first come first served basis. Please note a 50% deposit of $345.00 will be required prior to ordering your company's sign.